Senior Dog Beds – What to Shop for with an Older Dog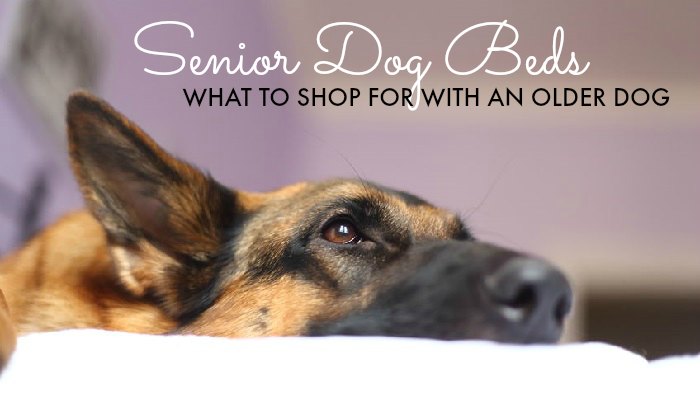 Senior dog beds are so much nicer for your older dog.  Puppies may be able to sleep anywhere but your older dog might need more help being comfortable.  If your dog is getting older or you're adopting an older pet, that means aching joints, sore muscles, and a greater interest in nestling into a warm, cozy bed. Older dogs also need more support because they're more prone to aches and pains when they get up from a long nap. Firmer mattresses are also ideal because they allow senior dogs to stand up much easier.
Orthopedic Senior Dog Beds
Orthopedic beds are made from memory foam, so they offer a firmer and more supportive surface than you will get with most standard dog beds. They can cost a bit more than the cheap dog beds that you see in stores or online, but they're worth every dollar if they stop your older dog from suffering with unnecessary aches and pains. Here are some of the best options available today:

Raised Senior Dog Beds
Raised senior dog beds allow your dog to step up into the bed rather than dropping down. This is easier on the joints and may help some dogs with back problems or other health issues. They don't provide as much cushioning and support as orthopedic beds, but you can add softer dog mattresses on top if you just need the elevation to keep your dog comfortable. Here are our top recommendations:

Warming Dog Beds
If your older dog can burrow into a warm bed, they may find some relief for aches and pains. You may not use this as your dog's primary bed, and they may still benefit from having a therapeutic or raised bed in the home. Here are a couple options that you might consider:

Finally, keep in mind that accidents are more likely to happen with senior dogs. If you can find a dog bed that comes with a waterproof lining and a removable cover that you can toss in the washing machine, cleaning up those messes won't feel like such a chore. You may also make your own covers and absorbent liners, or hire someone to make it for you. Adding a thin, waterproof pad or blanket to the top of the bed is another option.
Related Articles: