Best Dog Beds for Large Dogs - Our Top Choices
Are there certain features that the best dog beds for large dogs have in common? While not every dog bed is the same, there are some features that are of great benefit to owners of big dogs. As we conducted our research into the best large dog beds, we came across some noteworthy features that many of the best dog beds shared.

Important Features of the Best Dog Beds for Large Dogs:
While you may or may not need all of these features for your dog bed, it's important to see what is available on the market before you buy a large dog bed.

Extended Sizes: There are oversize dog beds that aren't designed specifically for Labs, Golden Retrievers, Great Danes, and other large dog breeds. Those are often the beds that flatten out rather quickly. The best dog beds for these larger breeds are made specifically for big, heavy dogs. They often come in extended sizes beyond the "large" that you may see with some other big dog beds. Some are even designed for specific breeds, so you know that they'll offer adequate room for your dog to rest comfortably.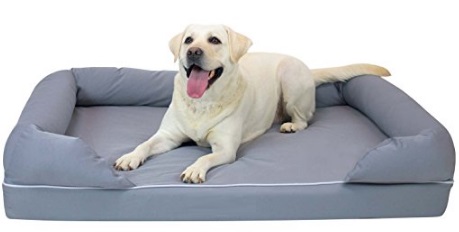 Supportive Materials: Don't settle for dog beds that simply include foam. You need to know that the foam is thick enough and of high enough quality to withstand the weight of your big dog. Look for orthopedic designs that will provide the support your dog needs to wake up energized rather than crippled by joint pain. This is especially important for older dogs because they're already at higher risk for joint problems.
Easy-to-Clean Fabric: Your dog is going to shed, and they may track dirt and other debris into their bed at times. This is especially true if you have a puppy who is always up to something. If your dog bed is easy to clean, you won't have to worry about smells or filth intruding upon your clean home. You also won't waste time trying to mask the odor or cove up the dirt. Plus, doesn't your dog deserve that sensation of climbing into a fresh bed?
Color Options, Patterns & Style: This may seem less important than the other features on this list, but it's still something to consider. The more color and pattern options available, the more likely you are to find a large dog bed that looks great in your home and fits your personal style. You may even want to select a style that fits your dog's personality.
Warranty: This is your assurance that the manufacturer believes in the product that they're selling. If they don't stand behind their product enough to offer at least a limited warranty, why should you count on that product meeting your expectations in the long term? Look at warranties as signals that a product was made to last.
Now that you know what some of the best large dog beds have to offer, it's time to start shopping. This is the fun part of caring for your dog, but make sure to read our reviews and consider our top recommendations as you maneuver the massive dog bed market. We're here to guide you to the best dog bed for your pet.
Related Articles: