Best Dog Car Bed for Large Dog Breeds
A dog car bed will keep your canine friend more comfortable whether you're riding across town to the dog park or you're heading out on a long road trip. These beds will also protect your seats or floorboard from dog hair, dirt, and other debris that comes naturally with a large dog. The best large car beds are easy to install and take out, so you can clean them up quickly and get them back into your car when needed.
Best Dog Car Bed Options:
Before you try to make your dog's everyday bed fit the larger space of your backseat, van or SUV, consider these large dog beds that were designed for use in the car. This will extend the life of your everyday bed while suiting the needs of a dog while on the road.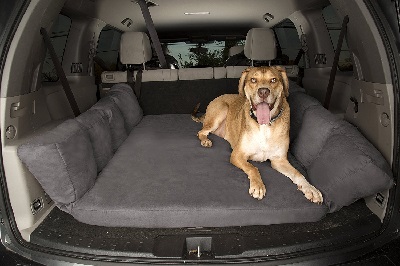 If you travel with your dog frequently, a car dog bed is essential. If your dog is easily excitable, the comfort of the bed may help keep them calm and less anxious. Your dog will come to recognize their space within the car, and that may reduce their attempts to jump into the front seat or just jump around in a distracting manner. Of course, keeping the seats and floorboards of your vehicle clean and free of dog odor more than justifies this investment.  
Related Articles: