Best Large Dog Bed Reviews and Recommendations

Big dogs can't fit into tiny places!  They need large dog beds and we will help you to find the best options for your large dog.
If you've ever seen your large dog twist into an odd position in attempt to squeeze into a smaller sleeping space, your first response was probably something like, "Aw, how cute!" Your next thought was likely, "That doesn't look very comfortable." If you've ever tucked your body up to sleep on a love seat or small chair, you know that it doesn't feel comfy for long.
That's why you head out into the world in search of big dog beds. You can easily find oversized beds in most pet stores, but there's a big problem once you get them home. Your big dog starts getting cozy and spending a lot of time in his or her new bed, and it quickly flattens. Perhaps it slowly rips apart at the seams.
What started out as a plush, thick bed that would keep your pet comfortable while providing some cushioning is now a useless lump of pancake-thin fabric.
Large dogs are heavy and may place more wear and tear on their beds, but they do deserve bedding that supports their weight and that keeps them comfortable and warm. Some large dogs will even experience joint pain and other health problems as a result of unsupportive sleeping conditions. It's not much different than the backache you may experience after too many nights on an unsupportive mattress.
Just as your big dog deserves a suitable bed, you deserve a reasonable return on your investment.
Trustworthy Large Dog Bed Reviews
There are a few questions that you should ask before you buy your next dog bed: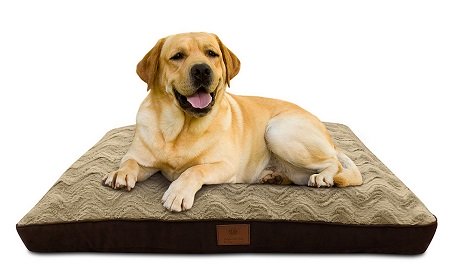 Is it made from durable materials?
Can it hold up to the demands of a larger dog?
How easy is it to clean?
How long can you expect it to last?
Have others had positive long-term experiences with this bed?
This last question is what will give you the best insight into the value of a large dog bed. Owners may love a bed for the first week or two, but they may find the same bed a complete let down after weeks three or four.
This website was designed to give you that long-term insight before you invest your money in a big dog bed. We'll deliver in-depth information on the best large dog beds on the market, allowing you to pick one that may suit your budget while giving your big dog exactly what he or she deserves: a cozy bed that they can enjoy without acting like a contortionist.
Dog Bed Recommendations for Thoughtful Owners
The best way to avoid a bad investment is always to ask others for recommendations, tips, and insider tricks. When it comes to your over-sized dog bed, that is exactly what you'll get from this website. We combine extensive research into the dog bed market with personal experience to deliver solid information that other pet lovers can use to make smart buying decisions.

If you want to find a large dog bed that is perfectly suited to your big dog, we've done the research for you. Take the time to read our large dog bed reviews, and you're more likely to find the perfect bed for the dog you love. Consider our top dog bed recommendations and top tips, and you're less likely to sink your money into a bed that won't hold up long term.
The dog bed market is massive. Why not give yourself the advantage of in-depth information?