Outdoor Dog Beds that Big Dogs Love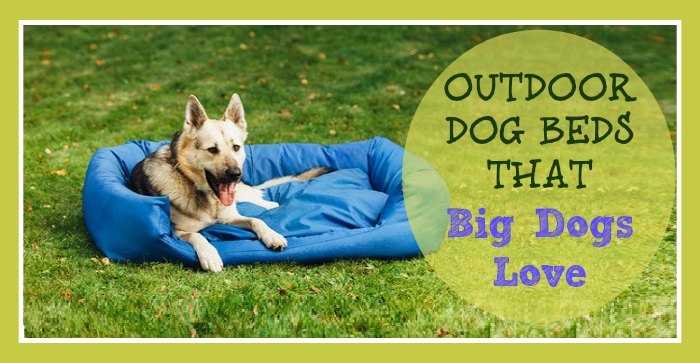 How much time does your dog spend outdoors? Comfortable outdoor dog beds are essential If your dog often hangs out on the front porch or the back deck with the family or enjoys spending time running in the backyard.   This gives them a place to rest between races around the yard or a cozy place to retreat while the two-legged family members are lounging on outdoor furniture.
You may even need an outdoor bed on your screened porch or other extensions of your home that aren't air conditioned or heated. The bed will help your dog maintain a comfortable body temperature in addition to serving as a comfortable place to rest. Since large dogs tend to overheat easily, you may want to purchase a cooling dog bed in this case.

There are hundreds of dog beds on the market, so how do you pick the right one for your big dog? This guide will introduce you to some of the best options for outdoor relaxation.
Outdoor Dog Cots
Cots are raised from the ground, so they allow air circulation to move around your dog's body. This helps large dogs remain cool and comfortable in warm weather, but many dogs simply prefer to step up onto their bed rather than dropping down onto a mat on the ground. Your big dog may feel like a real member of the family as their bed is raised up much like the outdoor furniture supplied for the four-legged family members.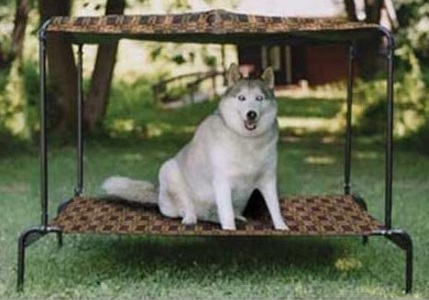 The Coolaroo Elevated Pet Bed is one of the more popular options because it's affordable, simple, and suitable for indoor and outdoor use. It's resistant to fleas, mites, mold, and mildew, and comes in large and x-large sizes.

The Original Pet Cot from K&H Manufacturing is another option. It's suitable for pets up to 150 pounds and features a mesh insert in the center of the bed. This insert improves air circulation to keep your dog cool.
Do you want to add an overhead visor to block sunlight and some wind? Look at the Puppywalk Breezy Bed in size large.
Water-Resistant Outdoor Dog Beds 

If you want to purchase a standard dog bed that sits on the ground and just provides a supportive, comfortable space for your four-legged friend to relax, you have hundreds of options. You can narrow down the market by focusing only on those that are water resistant and recommended for outdoor and indoor use. Most of what remains will be foam square or round beds with water-resistant covers, but you can also find sofas and loungers.

The FurHaven Memory Foam Mattress is a good indoor/outdoor option for dogs who need a bit of support. It's made of medical-grade support foam covered by softer memory foam. Look at the jumbo size for your big dogs.
The Ultimate Pet Lounge from PetFusion is designed with raised edges and an opening in front, so your dog can use the sides as pillows or head rests. It's made with a supportive base of foam and is covered with water-resistant fabric.
Portable Pet Retreats
Do you really want to pamper your big dog? You might want to consider a pet retreat like the Etna Waterproof Portable Dog House/Retreat. The bottom is a cot, but it's fitted with an overhead enclosure that will provide more protection from the weather. This is a good option for pets that may want to escape from other pets or children at times, or you can use it to provide adequate protection on cold, windy or overly sunny days.

When selecting your outdoor dog bed, think about the personality and behavior patterns of your dog. You may need multiple outdoor dog beds for different times of the year or different areas of your outdoor living space.
Related Articles: