Best Memory Foam Dog Bed for Your Big Dog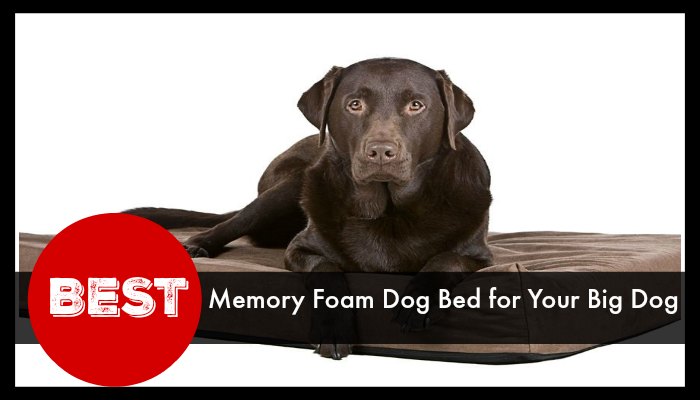 If you're ready to buy a supportive, comfortable bed for your big dog, then a memory foam dog bed might be a perfect choice.
It's time to look beyond the color options, fun patterns, and gimmicky designs. A large dog can easily flatten a bed made from low-quality materials, and your canine friend deserves adequate support for his bones and joints. High-density memory foam is the best material for a larger dog because it's designed to provide orthopedic support while bouncing back into place after bearing the weight of a heavy dog.
This guide will introduce you to some of the best memory foam dog beds out there today. Which one might best fit the individual needs of your household and your dog?
Memory Foam Bed with the Best Warranty
If you want to invest in a dog bed that will last for years, you can't go wrong with the Big Barker. This is an orthopedic dog bed made with seven inches of quality memory foam. It comes with a 10-year guarantee that pertains to the foam. You can use that guarantee to get your money back if the bed loses more than 10% of its original shape and loft within 10 years of purchase. The manufacturer can make that guarantee because Big Barker beds are designed for large dogs. They're also crafted by hand in California.

The Best Memory Foam Dog Bed for Orthopedic Support
Does your dog have arthritis or other joint problems? If so, the Orthopedic Joint Relief Bolster bed from Integrity Bedding is a good option. It consists of three layers of polyurethane and memory foam that measure five inches together. The foam is covered by a faux fur cover that is extremely soft, and it has a bolster style that will give your pup something to curl up to if needed. It was designed for dogs in need of orthopedic support, so it's a good option if your dog is older or has problems with the hips or joints. Consider this an orthopedic bed with a touch of luxury.

Memory Foam Dog Couch for Cozy Comfort
Do you have a cuddler in the family? The PetFusion Ultimate Pet Lounge is the perfect bed for nesting and cuddling up at the end of a long day. It contains four inches of solid memory foam, and the cover is durable enough to withstand rips and tears. It has a non-skid surface along the bottom, so you don't have to worry about it slipping around the room as your dog cuddles up.

The Best Memory Foam Dog Bed for Durability
If you're searching for a tough bed that your dog can't easily destroy, try the K9 Ballistics TUFF Orthopedic Memory Foam Dog Bed. It's designed to withstand light to moderate chewing and comes with a waterproof liner. The cover is made from Ripstop Ballistic Nylon that won't collect hair and dirt as easily as other fabrics. You can wipe it down or take it off and throw in the wash. The mattress is made from a thick layer of dense support foam lined with 1.5 inches of memory foam.

When selecting a memory foam dog bed, think about the durability, size, and design. If your dog enjoys cuddling into a comfy corner, consider a bed with at least two raised sides. If your pup prefers to stretch out, then an open design may work best. Just make sure that you select a bed that is made from high-density memory foam and that was intended for heavier dogs.  
Related Articles: