Inflatable Dog Bed Options for Really Big Dogs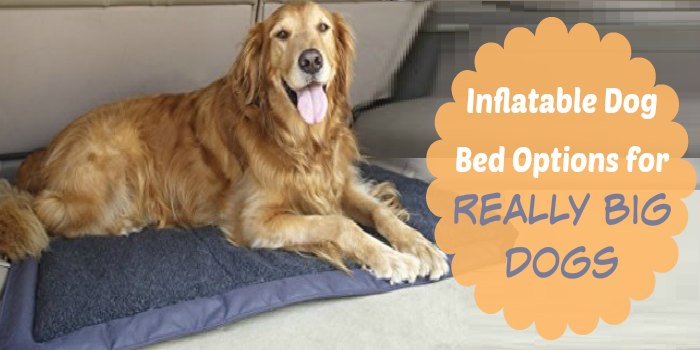 An inflatable dog bed can come in really handy when you travel.  You may use air mattresses when camping or sleeping over with family during the holidays, but have you ever thought of using one for your really big dog? It's difficult to find bedding that offers adequate support and comfort for large dogs, especially if your pet tends to overheat easily.

Inflatable dog beds are the solution because they're lightweight, portable, easy to setup, and extremely comfortable for dogs of all sizes. Perhaps most important of all, inflatable beds won't flatten and lose their shape under the weight of a big dog.

For extra-large dogs, it's important to find extra-large beds. You can also look for medium or large beds with an open design. Head rests and raised sides take away from the surface area available to your dog, so a large, flat air bed that can hold your dog's weight and is large enough for him or her to stretch out comfortably may work.
Top Inflatable Dog Bed Options:
To help you find the best inflatable beds for your big pooch, we did the research and came up with a short list of our recommended inflatable beds:
Ruff and Tuff Self-Inflating Travel Dog Bed: This is one of the best inflatable dog beds for really big dogs because it's made from durable nylon and offers a large, flat surface that can accommodate most dogs. It's covered with a soft fleece fabric, and you can take the cover off when it needs washed. You can also fold it up for easy transport when traveling, and it inflates with the turn of a nozzle.
Snappy Snoozers Orthopedic Air Mattress Inflatable Pet Bed: This inflatable bed was designed for handicapped dogs, but it offers a large, flat surface that can accommodate any large dog comfortably. The bed is a simple mattress with air chambers, and it comes with a removable cover that's easy to wash. You do need an air pump to inflate the mattress, but it comes with your purchase. It also comes with two replacement covers and a travel tote that makes it easy to carry.
Heavy Duty Car Travel Inflatable Mattress: This inflatable mattress was designed to go in the back of an SUV, turning the backseat into a comfortable bed. It offers a large surface that will accommodate many extra-large dogs, and you can use it on the floor at home or anywhere else that your pet needs a comfortable place to rest. It comes with an electric air pump that will work in a car, and it can hold up to 800 pounds.
If you travel with your dog or spend a lot of time outdoors, look for an inflatable bed that is easy to fold up and pack. You can set it up anywhere you roam, giving your dog something familiar for comfort and a sense of safety. When shopping for inflatable dog beds for your home, consider your dog's habits and preferences when selecting a size and shape. Available space within your house is something to consider as well. 
Related Articles: