Best Folding Dog Bed Options for Big Dogs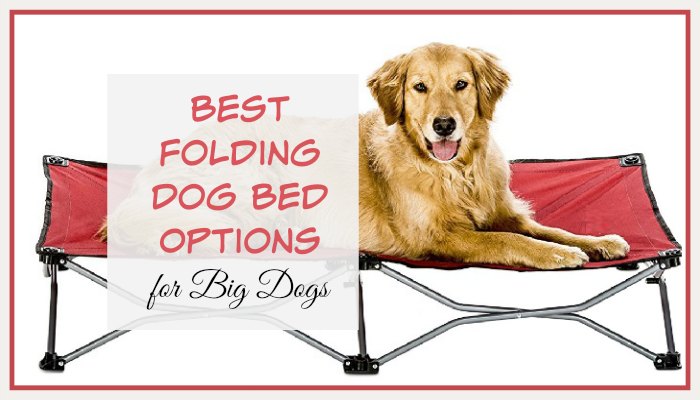 There are many reasons that why the ideal bed for your large dog may feature a folding dog bed design. If you don't have a lot of space in your home, you may want to fold the bed up and store it under a bed or in a closet when you have company or when it's not in use. If your lifestyle involves spur-of-the-moment adventures, you may need to fold it up and hit the door quickly. Perhaps you simply want to move the bed around your home easily or you need to take it with you when visiting friends and relatives. 
Favorite Folding Dog Bed Options
There are many folding dog beds on the market right now, so how do you pick the one that will work best for your dog? We took the time to round up the best options for big dogs, so you don't have to spend as much time searching around.
Carlson Pet Products Elevated Folding Pet Bed: This elevated dog bed is suitable for dogs up to 95 pounds and is 46 inches long. It stands seven inches tall and is designed to protect your pet's joints while keeping them comfortable with adequate air circulation. It's also designed to fold up and go quickly.
JoJo Sakura Steel Folding Washable and Ventilated Pet Bed: This bed is elevated from the ground, but it's not as high as some other products. It has a mesh panel to help keep your dog cool, and you can remove that panel when it needs washed. The bed is easy to fold and unfold and works like a simple cot.
DogHelios Combat-Terrain Outdoor Folding Dog Bed: U.S. Army-grade fabric is what makes this dog bed stand out in today's market. The design prevents the interior stuffing from shifting, and it folds into a compact bundle that is easy to carry. The extra-large bed weighs a mere eight ounces and is resistant to wind and water.
Easyology Jumbo Pet Cooling Mat: Use this gel mat to keep your large dog cool in hot weather or when lounging at home on warm furniture. You may even add it to your dog's favorite bed if they tend to get hot during the summer. The mat folds up and weighs less than five pounds, so you can easily take it will you when traveling or move it around your home as needed.
Quik Shade Large Instant Pet Kennel: This product is a folding elevated bed fitted with a kennel-like topper. It folds down and sets up quickly and gives your dog a private place to retreat when they need a nap or you want to secure them in a safe place. It does weigh more than the other folding dog beds featured here and it takes up more space, but it also helps you contain your dog when at a campsite or in other locations.
When determining what characterizes the best folding dog beds for your large pet, think about your dog's personality and daily habits. For instance, you may need a tough dog bed that can handle your active chewer or a dog who tends to scratch at their bedding. If you have a large dog that may jump onto the bed or move around a lot, durability may become your primary concern.
You should also consider the amount of space available in your home. If you're purchasing a folding pet bed to take with you while traveling, weight and a carry case or strap may be the most important features. The selections featured on this page will give you a good idea of the options on the market today, so you can choose what works best for your pet.
Related Articles: