Best Chew-Proof Dog Beds for Large-Breed Dogs
Some dogs chew everything and make chew-proof dog beds the only option for your home.  
Does your dog love to chew? If so, you're probably tired of coming home to stuffing littering your home. While you may supply chew toys or donate items that you don't mind your dog destroying, there comes a time when you need to guard your home against this destruction. Even mild chewing is enough to warrant the investment in a high-quality chew-proof dog bed.

Chew-Proof Dog Beds from K9 Ballistics
Some of the best chew-proof dog beds are made by K9 Ballistics. They come with a 90-day chew-proof guarantee and are also resistant to scratching, dirt, mildew, mold and hair accumulation. You can buy them in a variety of colors, and they come in XXL sizes to accommodate large dogs that may struggle to fit comfortably on many other dog beds. The most popular design options include the following: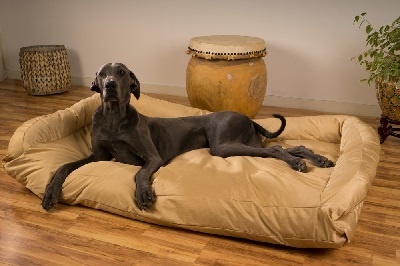 ToughChew Dog Beds from Orvis
Orvis is another leading brand name when it comes to chew-proof dog beds. They offer a large size, but they aren't as spacious as the XL and XXL K9 Ballistics dog beds. The large beds will accommodate dogs up to 120 pounds, and that does cover many large-breed dogs. These beds are filled with polyester fill or memory foam, and there are two design options:
Chew-proof dog beds aren't always the cheapest dog beds on the market, but they are the most durable. Those cheap beds become rather expensive when you have to replace them over and over. Even if your bed comes with a cover that you can replace, it's a waste of money to continue buying replacements when you can invest in one chew-proof mattress from the start. This is one investment that forces you to think long term, but it also delivers the peace of mind that your dog cannot destroy his or her bed while you're at work or cooking dinner.
Related Articles: